News
Contact Us
Address: Qianfu Building, Laojie Road, Shiyan ,Shenzhen, China
Tel:86-755-2764 0414
Email:info@g-mold.com
what is Injection mold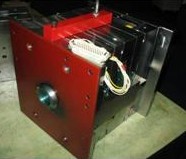 injection mold, click picture for more information
what is Injection mold? Injection mold is a tool that used to produce part in injection machine, the plastic material (hot material can flowing) be injected into mold when the material cool down(there is water channel in the mold), open the tool to get the part(the part will be ejected fromd mold). The mold cavity and core side shape is mirrored with part.
In a word: injection mold is mother of plastic and die-casting part
The injection mold made of steel, the usually steel is P20, H13,NAK80,S136,S7,420SS etc.
It contains mold base, cavity, core, injection system, cooling system, ejection system.
The mold life is from 1000 shots to 1,000,000 shots.